The 2022 Subaru Love Promise Customer and Community Commitment Award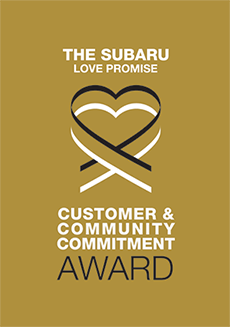 We've been nationally recognized for our dedication to our customers, our community, and the Subaru Love Promise.
We're honored to receive the 2022 Subaru Love Promise Customer and Community Commitment Award. This award nationally recognizes elite Subaru retailers who provide an exceptional customer experience at every interaction with Subaru. These retailers have also demonstrated an outstanding commitment to supporting passions and causes in their local communities in important areas such as the environment, community, health, education, and pets.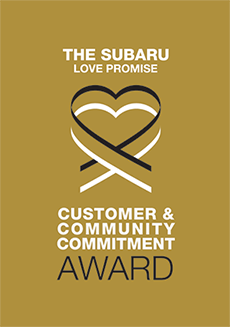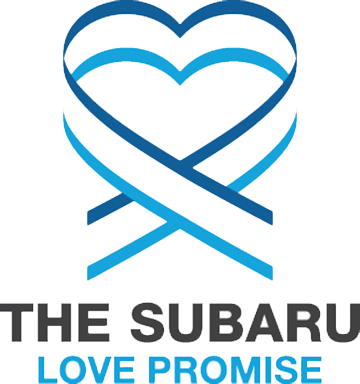 What is the Subaru Love Promise?
Subaru and our retailers believe in making the world a better place and the Subaru Love Promise is our vision of respecting all people. This is our commitment to show love and respect to our customers and to work to make a positive impact in the world.
How is Williams Subaru dedicated locally to the Love Promise?
Our Love Promise can be seen in various partnerships with local charities and non-profits. We're grateful for the opportunity, not only to be a part of our community, but to serve it as well.
Humane Society of Charlotte, Humane Society of Union County NC, Kindness Kennels
TerraCycle, HAWK - Habitat And Wildlife Keepers
Shamrock Gardens Elementary
Second Harvest Food Bank Metrolina, Common Heart
ACEing Autism, North Carolina Leukemia & Lymphoma Society, Levine Children's Hospital
Love Promise Stories from Williams Subaru
Subaru and Williams Subaru believe in making a positive impact on the communities in which we live and work. We uphold that belief through our Love Promise Community Commitment. Every month, we select inspiring stories from customers and partners from around our area who strive to support our collective commitment and feature them here
Supporting an end to homelessness with Roof Above - Liz C
For the 2021 Subaru Share the Love campaign, Williams Subaru proudly selected Roof Above, a local nonprofit organization dedicated to bringing the community together to end homelessness, one life at a time. The work Roof Above does in our community is of the utmost importance, helping to ensure everyone has a safe, affordable roof above their head. Roof Above is a comprehensive homeless service provider serving 1,200 people per day through a spectrum of services ranging from street outreach, day services, emergency shelter, and permanent supportive housing. We were so excited to select them as a charity beneficiary, so that we could offer some help to their important mission. In partnership with Subaru of America, we were able to present Liz Clasen-Kelly, CEO of Roof Above, with a check for $12,000. Thank You to Roof Above for everything you are doing to help end homelessness in our community.
---
Better Summers, Brighter Futures - Dee P
Better Summers, Brighter Futures – that's the mission of Freedom School Partners. Summer can make or break the education of lower-income kids. While middle- and higher-income peers maintain—or even gain—knowledge during summer breaks, lower-income children lose two to three months in reading comprehension. By the end of third grade, lower-income children are typically two years behind in reading, due in large part to summer learning loss. Without significant intervention, most who fall behind by third grade will never catch up. Throw Covid learning into the mix and you'll find so many children who have fallen behind. Freedom School Partners changes the future for under-resourced students by giving them three life-changing tools: literacy skills, character strengths and a community that believes in them. Williams Subaru was introduced to Freedom School by our friends at Rama Road Elementary School. Rama Road Elementary is a Title 1 school, educating many lower-income kids from lower-income families. Rama Road Elementary partners with Freedom School Partners to help bridge the gap for these children during Summer Break. While the majority of the cost of Freedom School Partners is subsidized, there is still an enrollment fee families must pay for their children to attend. Rama Road Elementary identified 8 students across 5 families who needed help with the enrollment fee cost. The teachers at Rama Road Elementary School were going to get together to cover the cost of these students until Williams Subaru stepped in. Teachers already give so much of themselves and their income to their students. We couldn't let them come out of pocket for this too! Williams Subaru happily covered the cost of the Freedom School enrollment fee for these 8 children, from 5 families. We presented the students with scholarship certificates and enjoyed spending a little time with them! They were so excited to learn they were going to Freedom School this Summer! Like the scholars they serve, Freedom School is making amazing strides. Throughout 2021, they served 882 scholars across 10 school sites, with over 600 volunteers. "Once you learn to read, you will be forever free." —Frederick Douglass Thank YOU Freedom School Partners for everything you are doing for the youth in our community. Williams Subaru looks forward to continuing to support your mission.
---
Plogging & Recycling on Earth Day - Brian M
For the second year in a row, Williams Subaru proudly helped sponsor an Earth Day celebration in partnership with the Around the Crown 10K crew. It was a really fun evening at Urban Farm at Aldersgate – full of running, jamming, and cleaning up the Windsor Park neighborhood. The nick kicked off with a jog/plog around the Windsor Park neighborhood picking up litter along the way. Williams Subaru provided a TerraCycle Zero Waste Box to recycle all that was found! Keep Charlotte Beautiful provided grabbers and bags to keep things organized! Upon return, Taylor Winchester, a favorite CLT artist, headlined the farm stage with an intimate concert.
---
Veteran's Park Cleanup with Char Meck Parks & Rec - Karen H
A team of volunteers from Williams Subaru had a great time teaming up with Mecklenburg County Parks & Recreation Volunteer Services to help clean up Veteran's Memorial Park in Charlotte! We set out to collect and remove trash and debris from this beautiful park. Char Meck Parks & Rec is reliant on the help of volunteers to help keep our parks clean, and we are happy to help. Our team of volunteers was able to remove several bags full of plastic waste like glass bottles and plastic bags, plus random items such as clothing, glasses, and shoes. It was the perfect way to celebrate #EarthWeek and #EarthDay. #SubaruLovesTheEarth
---
Charlotte's Dog Jog! - Kate D
Williams Subaru was thrilled to recently sponsor Charlotte's Dog Jog! This unique run was a family, fur friendly 5K - great for all levels of athletes. The dog jog took place right around the corner from Williams Subaru at McAlpine Creek Park – an awesome local park in our community. As a sponsor of the race, Williams Subaru helped the official race beneficiary, Humane Society of Charlotte. Through its efforts, the Humane Society works to educate pet owners and ensure the safety and well-being of both two-legged and four-legged Charlotteans. This first annual run was a huge success, truly a day to bark about! ☀️ 75-degree day 🛍 14 amazing sponsors 🦮 200 dogs 🏃‍♀️ 300 joggers⠀⠀⠀⠀⠀⠀⠀⠀⠀ We're already planning for #CharlottesDogJog 2023 and we can't wait to share more details soon!
---
Golden Shamrock Shuffle - Kate D
Williams Subaru was proud to support the Shamrock Gardens Elementary School's annual Shamrock Shuffle 5K for the 7th year in a row! This annual fun-run is the school's flagship fundraising event and we were thrilled to be a Gold Sponsor. Our donation will help support field trips, Teacher Innovation Requests, Academic Enrichment Clubs, and much more. Hundreds of people came out for the fun event with beautiful weather. We are looking forward to supporting the event again next year, and will also see all the kids again later this year for our annual Subaru Loves Learning Adopt a Classroom initiative.
---
Boxing Up Food & Supplies For Neighbors in Need - Kate D
A team from Williams Subaru joined forces with volunteers at Common Heart to assemble over 120 pantry kits for local families in need! Common Heart is a local organization of 350 volunteers and employees helping serve hungry families each and every month. In 2021, their 15th year, they delivered a week's worth of groceries to 10,861 families an average of 12 times! Their traditional and mobile food pantries focus on helping to stabilize families living in poverty through providing approximately a week's worth of groceries. "Encouraging a small revolution of kindness is the main goal of Common Heart. By mobilizing folks to serve, helping families in need, we hope to encourage the growth of love and compassion in all areas of the volunteer's life and those the volunteers serve." Williams Subaru has volunteered with Common Heart several times in the past and we always have a great time when doing so! Our team of 4 started the day out with organizing abandoned food donated by a local grocery store, and then moved into an assembly line to pack up 120+ boxes with a week's worth of groceries for an upcoming mobile pantry. Through teamwork and dedication we got it all done in half the time the Common Heart volunteer coordinator expected!
---
Celebrating & Appreciating Local Teachers - Dee P
"Let us remember: one book, one pen, one child, and one teacher can change the world." – Malala Yousafzai Teachers do SO much for the children of our community. Williams Subaru was more than happy to show our local teachers some love during Teacher Appreciation Week 2022. Janet, a loyal Subaru owner and local Mom and PTA member connected with us a few months ago about sponsoring an event at her child's school, Rama Road Elementary School. Rama is a Title 1 school that supports educationally and economically disadvantaged children. They are in great need of additional support to ensure the success of their students. We immediately connected to learn more about the ways we can support the school, the staff, and the students. With teacher appreciation week coming up, Williams Subaru offered to purchase lunch for the faculty and staff of the school. In collaboration with the PTA, a beautiful Zoe's Kitchen spread was brought in and the staff was able to enjoy a relaxing and healthy lunch "on us". To top it off, Williams Subaru also provided gift bags for all 85 staff members that included a high quality eco-friendly travel tumbler, car wash gift card, and reusable beach-friendly tote. This was just our small way of celebrating the heroic teachers (and their supporting staff!) of our community. Every employee in the school was included in the celebration. As Subaru retailer employees, we are grateful for the opportunity to demonstrate the Subaru Love Promise in our community and to do our part in supporting local educators and students. "On behalf of the Rama staff, I want to say THANK YOU for the wonderful lunch Rama Road PTA and Williams Subaru provided for the school staff last Friday. Every time we don't have to think about preparing lunch is a great thing for all of us. All I kept hearing was; "this is so nice of them to do this for us", "this is wonderful", and "this is great food". Thanks for being so kind and wonderful to all of us." – Dee Perez, Rama Road Elementary Staff
---
Teaming Up to Clean Up - Creek Week 2022 - Karen H
Creek Week 2022! Charlotte-Mecklenburg Storm Water Services partnered with Parks & Recreation during March 19-26 recognizing a week of caring for the over 3,000 miles of creeks in our local area. The week's activities were centered around gaining knowledge about and caring for the precious waterways of Charlotte-Mecklenburg. A team of volunteers from Williams Subaru signed up to help clean up Campbell Creek Greenway during this fun and exciting week! We had a great time wading through the creek in our rain boots, collecting all sorts of trash and doing the important work of removing it from the watershed. Charlotte-Mecklenburg is incredibly reliant on the help of volunteers to help keep the parks clean. Williams Subaru is more than happy to take a couple hours away from the office to help out! We were able to remove several bags full of plastic waste like water bottles and grocery bags, plus random items such as clothing, sunglasses, and even a set of car keys. Overall, Creek Week 2022 was a huge success! Volunteers across the county helped divert over 19,000 pounds of trash from local waterways, and marked 26 storm drains. We can't wait to make another impact in our community and waterways next year for Creek Week 2023. #SubaruLovesTheEarth
---
A Spoonful of Comfort - Judy W
A sales and service customer of several years, Judy Wolfe, visited us 3 weeks ago in distress because her husband had recently passed away and her Outback was showing lights on her dashboard that needed addressing. Judy and her husband Dick purchased their Outback from us a few years ago, and have been returning as loyal service customers ever since. When she arrived she was visibly distraught and Rob & Diana comforted her and were also very upset with the news of Dick's passing, as they knew him well. Judy shared he was diagnosed suddenly with cancer and passed away very soon after. We assured Judy we would take care of her Outback as quickly and efficiently as possible. It was a very quick light reset and we had her in and out in a jif. Judy shared feedback about her visit with us as follows, "I was treated with love and respect. (My husband died just 3 weeks ago.) My car was well cared for by your staff." Kate (marketing director) saw this survey comment and approached Diana about the interaction and right away Rob overheard and suggested we send Judy a card or care package if possible. Kate consulted with Mike and we purchased a Spoonful of Comfort sympathy basket featuring a comforting blanket, homestyle ready to eat soups, oatmeal raisin cookies, Healing After Loss devotional book, and a soothing tea set. We sent the package with the note "We were so sorry to hear of the recent loss of your husband. All of us here at Williams Subaru remember him fondly. Wishing you peace and healing. – Your friends at Williams Subaru" and we also sent a handwritten card signed by all staff members. We received this heartfelt thank you from Judy, "Williams Subaru's gift was just delivered to my door, A Spoonful of Comfort. I was touched by how thoughtful your staff is in the loss of my husband, Dick. Please let everyone know how much I appreciate your thoughtfulness. I will read a grief devotional every day and think of your kindnesses shown to me." Williams Subaru loves you, Judy! Hang in there.
---