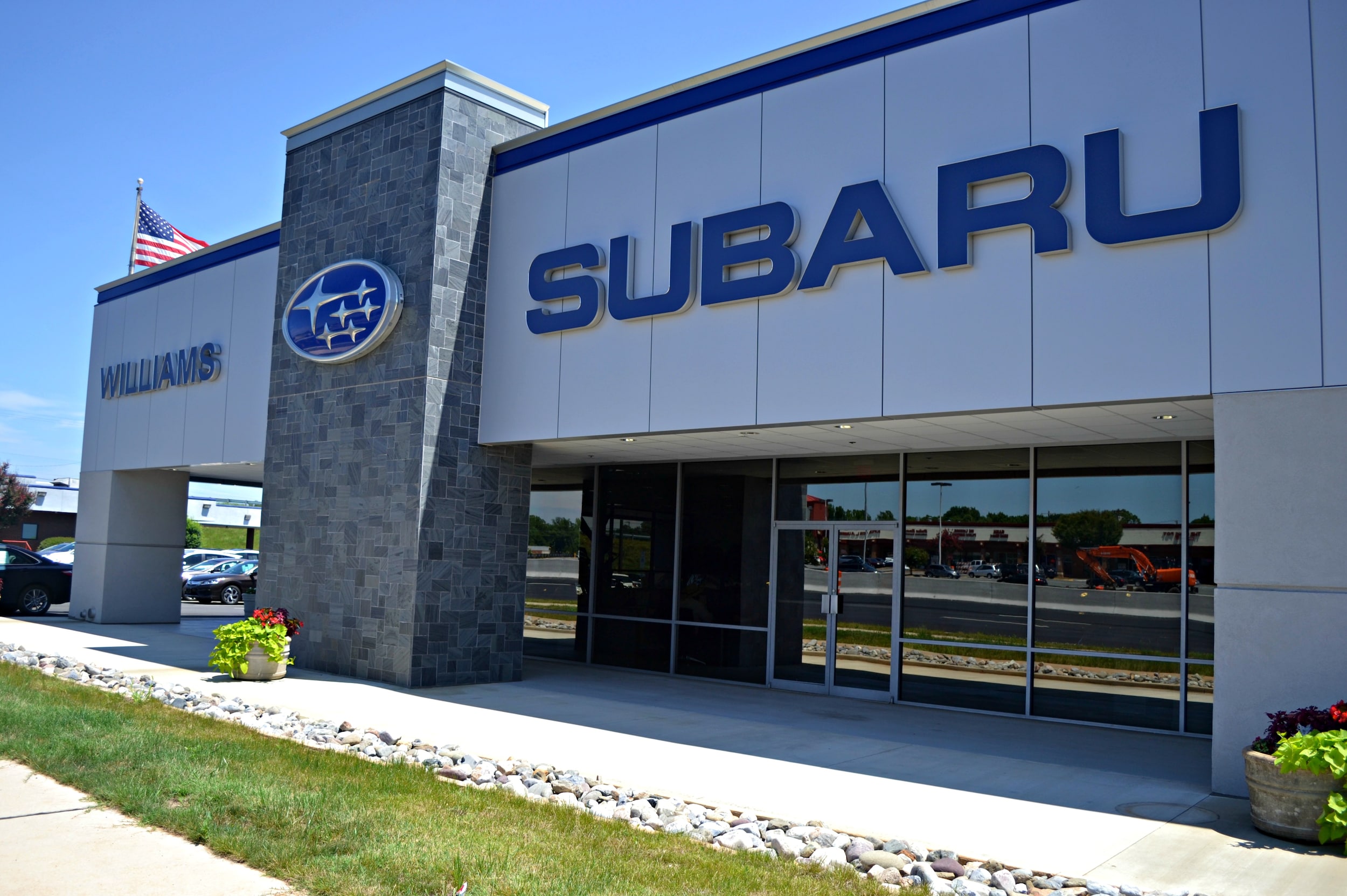 While our competitors come and go, Williams Subaru remains a trusted name in the Charlotte area. We have been a family-owned and operated business ever since we first opened our doors back in 1937, and we are committed to offering the best Subaru experience around. Our dealership offers an approachable and family-friendly environment to shop for a new car, and you can even bring your four-legged family members with you when you go for a test drive! We know that getting your pet's opinion is important when buying a new car, and we are happy to have you bring them along. No matter how far away you are traveling from, we want to make your car-buying experience a success.
Our commitment to customer service continues long after you drive away in your new Subaru. Not only do we offer an exclusive Limited Powertrain Warranty on every new vehicle that we sell, but we even throw in roadside assistance for 24 hours a day/365 days a year and your first visit to our Subaru service center for free! And with our on-site body shop and collision center, we can take care of any damage to your vehicle. When you visit us, you will be more than just another customer; you will be a part of the Williams Subaru family. When we say that our slogan is Love Us For Life, it is more than just words.
A Welcoming Location
Conveniently located off E. Independence Boulevard, our dealership is just 10 minutes and 0 stoplights from uptown Charlotte. If you are anywhere in the Charlotte area, then it is an easy drive to our location. Our surroundings also make it possible to take a test drive along highways and through suburbs to really get a feel for how a vehicle performs. Our dealership was also recently renovated, letting you relax in a comfortable environment as you shop for a new car or wait for your vehicle to be repaired. With our showroom, service center, and body shop all in one place, Williams Subaru is ready to help you with all your automotive needs.
Our friendly staff is dedicated to providing you with the welcoming and stress-free service that you deserve. Not only are we family-owned and operated, but we have plenty of team members who have been with us for decades. Our general sales manager, Shawn, has been a part of our team for over a decade, while our service manager, Mike, has been here for over twenty years. The combined experience of our team sets us apart and allows us to assist you with any part of the car-buying or car-owning experience. Every member of our team is a part of our family, and we will make sure that you feel equally at home when you visit us.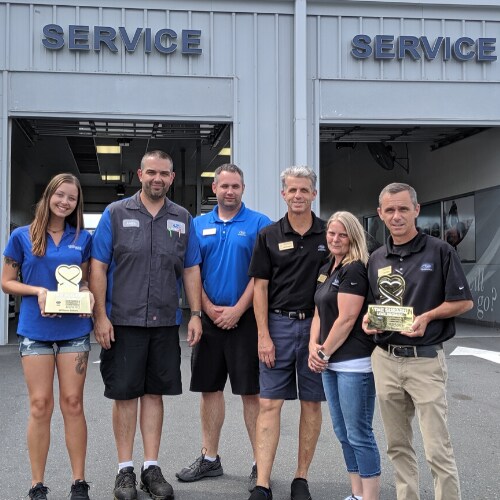 Community Focus
Here at William's Subaru, we believe that we should give back to the community that has supported us for over 80 years. We partner with many local charities and organizations, from the Common Heart food pantry to the North Carolina Leukemia & Lymphoma Society. We also pay special attention to the pets of the Charlotte area, working with the Humane Society of Charlotte and Pawsitive Impact NC Dog Rescue to make sure that every dog finds a loving home. Some of our employees have even found their own furry friends through these amazing organizations, and you may just meet them when you visit our dealership!
Our commitment to the Charlotte community was recognized with the Subaru Love Promise Customer & Community Commitment Award in both 2020 and 2021. However, that is not the only award that we are proud of. We are doing our best to care for the environment as well as our neighbors and are proud to be a certified Subaru Eco-Friendly Retailer. To meet this demanding standard, we had to examine every aspect of how our dealership operates, reducing energy usage, water consumption, and waste production to create a more sustainable business
Limited Powertrain Warranty
There are many advantages to shopping at Williams Subaru, but our exclusive Limited Powertrain Warranty is near the top of the list. This complimentary warranty is included with every new Subaru we sell and is valid for as long as you own the vehicle. Our Limited Powertrain Warranty is in addition to all of the standard Subaru manufacturer warranties and covers all the major components of your vehicle, including the engine, transmission, and drive axles. Subaru builds some of the most reliable vehicles on the market, but we understand that even the most reliable vehicles can occasionally have issues, and our enhanced warranty coverage can provide you with additional peace of mind.
In addition to our Limited Powertrain Warranty, we offer other complementary services that can save you time and money. To start, we include free roadside assistance for your first 12 months of ownership. Whether you need a flat tire changed, a battery jump-started, or have simply locked your keys in your car, our roadside assistance program will have you back out on the road in no time. When something goes wrong, the last thing you need is the added stress of figuring out who to call for help. This offer is not only good anywhere in the United States, but we even provide roadside assistance in Canada as well, should your travels take you to our northern neighbor.
Finally, we will cover the cost of your first visit to our certified Subaru service center for scheduled maintenance. Our service center can handle any maintenance or repairs that you might need for your vehicle, and your first visit after purchasing a new car is free so that you can get acquainted with our shop at no cost. Our express service will even let you drop by for regular maintenance without needing to set up an appointment ahead of time, and we have touchless self-check-in with mobile payments to make your experience convenient and safe.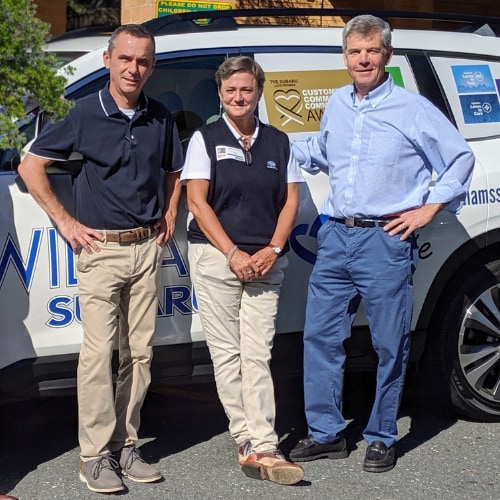 Visit Williams Subaru
If you are ready to experience the best car-buying experience around, then it is time to make your way to Williams Subaru. We are and always have been a family-owned and operated business that treats our customers like family. Our deep roots in the Charlotte area, along with our team's unmatched commitment to customer service and community outreach, set us apart as the number one Subaru dealership in the area. If our dedication to giving back to our neighbors while looking out for the environment and our four-legged friends is not enough to sway you, then a quick look at our services and offers should convince you.
Only at Williams Subaru will you find our exclusive Powertrain Limited Warranty, which provides you with additional peace of mind, secure in the knowledge that we will take care of you should your new vehicle have any issues. When combined with our 24/365 complimentary roadside assistance and our certified Subaru service center and body shop, you know that we are with you for the long run. 
While we offer an extensive inventory of new, used, and Certified Pre-Owned Subaru vehicles, we want to do more than simply sell you your next car. We want you to become part of the Williams Subaru family and Love Us For Life!